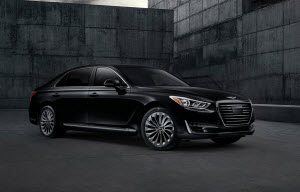 The G90 is the flagship sedan for Genesis' fleet of luxury vehicles. It earns this distinction partially due to its sumptuous cabin, which is full of features that promote style, comfort, and entertainment.
Our team at Norm Reeves Genesis wrote this article for the drivers in Cerritos, Long Beach, and Anaheim. We hope it helps you learn more about the various interior features of the Genesis G90. If you have any questions, don't hesitate to reach out to us. 
Genesis G90 Interior Features: Style
In a luxe sedan, interior style is extremely important. It's what gives off that sense of splendor that fills you with awe, each time you get behind the wheel. The Genesis G90 performs well in this category. Very well.
Premium leather seating: Specially-tailored Nappa leather upholstery that'll excite even the most discerning sensibilities.
Genuine matte finish wood trim: The perfect accents for such an elegant cabin, an ideal blend of prominence and subtlety. 
G90 Interior Features: Comfort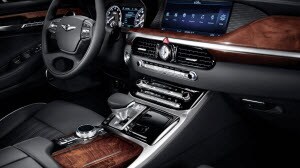 Comfort is just as crucial as style. A sedan's comfort is what allows you to relax into the experience and enjoy the drive, whether you're going down the street to a friend's house, toward the city to the office, or across the country on an adventure. The Genesis G90 will facilitate all these different types of driving for you.
Ergonomic operation sensitivity: All the controls, buttons, knobs, and driver interfaces are strategically placed and spaced for both comfort and convenience.
Modern ergonomic seats: The specialists at Germany's premier back and spine institute, Aktion Gesunder Rücken, give the G90's seats their top seal of approval.
First-class VIP driver's seat: With 22-way power adjustability, as well as a cozy heating function, the G90's driver's seat puts you back in charge.
Rear seat Integrated Memory System: This system will remember everybody's seating preferences-driver, front passenger, and rear passenger-and will allow you to recall them instantly. 
Entertainment in the Genesis G90
Finally, there's entertainment-the cherry on top, the ribbon that ties everything together, the finishing touch. The G90's one-two punch of its premium audio system and innovative sound-canceling technology will enable you to hear your music like you've never heard it before. Welcome to entertainment in the 22nd century, just a few decades early.
Lexicon 7.1 Discrete Surround Sound Audio System: A premium 3D listening journey that streams from 17 high-performance speakers interspersed throughout the car: subwoofers, woofers, full-range drivers, mid-range drivers, tweeters, you name it…
Interior sound insulation: Double-layered soundproof glass protects you from the dirty noises of the street so you can hear your music, sports, talk radio, audiobooks, phone calls, etc., in complete peace. 
Test Drive the Genesis G90 at Norm Reeves Genesis
If you'd like to experience some of these interior features for yourself, contact us at Norm Reeves Genesis. We're happy to provide our customers from Cerritos, Long Beach, and Anaheim with a Genesis G90 test drive.
Call or stop by our showroom to schedule your test drive today!