Our team at Norm Reeves Genesis has created a library of detailed Genesis vehicle reviews, available for our drivers in Cerritos, Long Beach, and Anaheim to read at their convenience.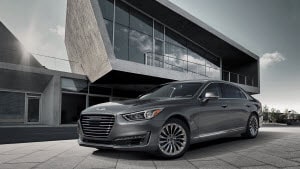 Why have we done this? Because we understand the importance of automotive research, and we know that reading vehicle reviews is a major part of that process.
These articles are the ideal way to familiarize yourself with the exclusive inventory of luxurious Genesis cars available at our dealership. Just choose a model and click on the link to learn more about that vehicle and what makes it unique.
Genesis G80 Reviews:
Genesis G90 Reviews: 
Additional Reviews: 
What Will You Find in a Genesis Vehicle Review?
Whether you're researching the midsize Genesis G80 sedan, the full-size Genesis G90 sedan, or any other model, our vehicle reviews will generally follow the same format. Each article will introduce the car and dealership then proceed to cover several of the following categories:      
Interior design
Exterior design
Engine options    
Transmission options
Horsepower and torque
Fuel efficiency
Safety systems
High-tech entertainment technology
Finally, we'll include some information about how to contact our team, and we'll offer you the chance to test drive the model being reviewed.
Importance of Genesis Vehicle Reviews
These reviews were designed to assist you in your automotive research process. They generally do this in three ways:      
They help you to narrow your focus to only the most pertinent Genesis models.
They save you a lot of time and hassle when you come into the dealership because you can concentrate on only the most important models and features.
They teach you about new models, designs, and features that you didn't know about. This might change your entire perspective on which Genesis car you want to drive off the lot!
Take some time to read the Genesis vehicle reviews on this page. If you find something that interests you or if you have any further questions, feel free to contact us at Norm Reeves Genesis. Our team is eager to help our customers in Cerritos, Long Beach, and Anaheim with all their automotive needs.