G80 Comparisons:
G90 Comparisons:
Additional Comparisons:
Our team at Norm Reeves Genesis has provided our customers in Cerritos, Long Beach, and Anaheim with a comprehensive index of Genesis vehicle comparisons. We hope these comparisons will be a useful tool as you carry out your vehicle research.
You'll find our entire library of vehicle comparisons on this page. Just click on any of the articles to learn more about a specific Genesis model and how it compares to a different brand. 
Why Are Genesis Vehicle Comparisons So Important?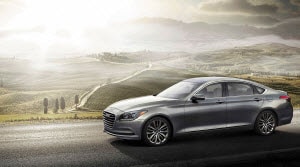 As you conduct your vehicle research, you'll find-if you haven't already-that there are so many choices on the market today! The sheer number of cars, trucks, SUVs, and more can be overwhelming at times.
Reading comparisons will help you focus on the features, specifications, and systems that make Genesis vehicles unique. In turn, this will narrow your research down to the most relevant models. Whether you're considering the luxurious Genesis G80 sedan or the sophisticated Genesis G90 sedan, vehicle comparisons will aid in your research immensely.
One of the best ways to learn more about a car is by taking it out for a test drive. Studying many vehicle comparisons before the day of the test drive will save you an unquantifiable amount of time and hassle. On the big day, you'll only have to focus on the models and features that interest you. 
Our Genesis Vehicle Comparisons
All the comparisons on this page provide important, relevant information in an easy-to-read format. They focus on analyzing certain aspects of a specific Genesis vehicle, such as the interior and exterior design, engine and performance capabilities, high-tech infotainment systems, and more. Then, they match these features up side-by-side with a competitor's model to see how they measure up.
If you're a driver in Cerritos, Long Beach, or Anaheim, get started today by browsing the Genesis vehicle comparisons here. Once you've found a model you like, contact us at Norm Reeves Genesis. We'll gladly answer your questions, and even schedule a test drive so you can get behind the wheel of your next Genesis today.