When you get behind the wheel of a luxury sedan, you expect exhilaration. You expect entertainment. You expect comfort. What other reasons would you have for driving a luxury sedan?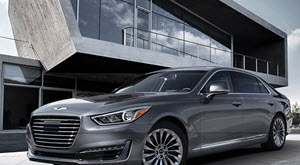 The Genesis G90 and the Lexus LS 460 both deliver on these expectations. So, how do you know which is the better car for your lifestyle? Our team at Norm Reeves Genesis wrote this Genesis G90 versus Lexus LS 460 vehicle comparison to answer that question.
We hope that drivers like you in Cerritos, Long Beach, and Anaheim find this article helpful. If you have any questions after reading it, don't hesitate to reach out to us at Norm Reeves Genesis.
Exhilaration: Genesis G90 vs. Lexus LS 460
Your first expectation is an exhilarating driving experience. Therefore, we need to start with the performance capabilities of each sedan.

The standard engine for the 2017 Genesis G90 is the Lambda 3.3L twin-turbo Gasoline Direct Injection V6 that produces maximum torque of 376 lb-ft. The standard engine for the 2017 Lexus LS 460 is a 4.6L gasoline model that only yields up to 367 lb-ft of torque.
With the Genesis G90, you can upgrade for even more power, if you so desire. The available Tau 5.0L Gasoline Direct Injection V8 engine will rocket you up the highway with 420 horsepower and 383 lb-ft of torque.
Entertainment: G90 vs. LS 460
Let's look at the in-cabin audio system for each car to see how well they'd fulfill your second expectation: an entertaining driving experience.
The 2017 Genesis G90 comes standard with the Lexicon 7.1 Discrete Surround Sound Audio System. It'll flood your entire cabin with 3D sound streaming from 17 state-of-the-art speakers.
Not only will you be immersed in the crystal-clear sound of your music-or your sports, talk radio, etc.-but you'll also be free of those exterior nuisances you dread. The G90 is equipped with double-layered, scientifically engineered soundproof glass to block out the noises of the road. Furthermore, the sound-absorbent, 19-inch alloy wheels reduce the noise created by the car itself, making for a quieter and calmer ride.
The LS 460 has a premium audio system, as well: Mark Levinson Reference Surround Sound Audio System. But, this system is optional, and requires an upgrade if you want it.
Comfort: Interior Features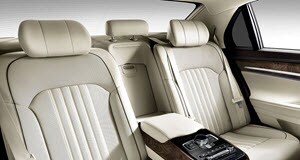 We'll now discuss the third tenet of an exceptional luxury sedan: comfort.
When you're sitting in the modern ergonomic driver's seat of the Genesis G90, you can take advantage of its 22-way power adjustability. With the Integrated Memory System, it'll remember your preferences for you to call upon at the press of a button.
While the Lexus LS 460's driver's seat also features memory recall, it only has 16-way adjustability. Think about the stressful commute to work or the long road trip up the coast. Are you willing to compromise on comfort?
Test Drive the 2017 Genesis G90
Now that you learned about the 2017 G90's powerful engine options, top-of-the-line audio entertainment technology, and supreme comfort, it's time to drive this car yourself.
If you live in Cerritos, Long Beach, or Anaheim, simply contact Norm Reeves Genesis to schedule your test drive of the 2017 Genesis G90.