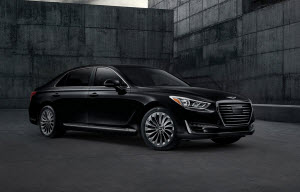 What are drivers looking for in a luxury sedan? The answer is simple: compelling performance and exquisite design. The Genesis G90 and the Cadillac CT6 meet both criteria. That's why they're two of the most preferred vehicles among upscale drivers.
At Norm Reeves Genesis, we cater to the top-tier drivers in Cerritos, Long Beach, and Anaheim. That's why our team created this Genesis G90 versus Cadillac CT6 comparison: to give our customers a side-by-side analysis of how the sedans stack up against each other.
If you have any questions after reading this article, reach out to us at Norm Reeves Genesis right away. 
Engine Performance: Genesis G90 vs. Cadillac CT6
The Genesis G90 features a standard Lambda 3.3L Twin-Turbo GDI V6 engine. It also offers an available Tau 5.0L GDI V8 engine. With this performance-focused monster powering your car, you'll get up to 420 horsepower at 6,000 RPM. That's a great deal of speed. A great deal of acceleration. A great deal of power.
The Cadillac CT6 isn't quite as capable. Its 3.0L V6 Twin-Turbo engine only brings 404 horsepower to the table. That's 16 less horsepower than what is offered by the G90. What could you even do with sixteen horses? 
Interior Style: G90 vs. CT6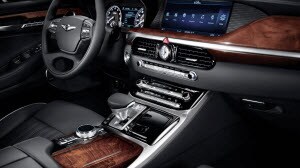 The interior of the Genesis G90 was designed with two intentions: luxurious style and uncompromising comfort.
Its beautiful Nappa leather seats are the essence of opulence. When you relax into them for the first time, you'll finally feel like the VIP you were meant to be. Genuine matte-finish wood trim accents the rest of the cabin, the common denominator to the sedan's 5-star feel.
Furthermore, the 22-way adjustable power driver's seat provides top-notch comfort and ergonomic support, the perfect complement to all this decadence. When you sit behind the wheel, you'll feel lumbar and shoulder support you never thought you'd feel from the most comfortable chair or mattress, let alone your car.
The interior of the Cadillac CT6 is also very attractive, with its own premium upholstery and artisan woodwork. But there's a component missing. Its cabin just doesn't have that something special. Driving the Cadillac CT6 isn't nearly as exhilarating as driving the Genesis G90, and when you take a seat in the cockpit, you won't feel nearly as sophisticated. 
Exterior Style: G90 vs. CT6
The body of the Genesis G90 seems perfectly proportioned. Featuring a distinctive fascia with its signature hexagonal grille and easily identifiable Genesis logo, as well as its one-of-a-kind side mirror puddle lamps, it has the kind of exterior design that'll get you noticed at any office, restaurant, or party.
The Cadillac CT6 appears too bulky and muscular for a true luxury sedan. It's not the type of vehicle you'd want to drive to the highest-class establishments and events in Cerritos, Long Beach, or Anaheim. 
Test Drive the Genesis G90 Today
The Genesis G90 is undoubtedly a better sedan than the Cadillac CT6. At Norm Reeves Genesis, we'd like to give you the chance to test drive this elegant, sporty vehicle. Contact us today to schedule your test drive!