When comparing the Genesis G90 vs. BMW 7 Series, three things come to mind: performance, style, and technology. These are the pillars that hold up any reputable luxury sedan. But when leather seats and 6-cylinder engines come standard on practically every model, it can be hard to tell one apart from the next. 
At Norm Reeves Genesis, we've conducted this informative vehicle comparison between the 2018 BMW 7 Series and the Genesis G90, so that our Cerritos, Long Beach, and Anaheim customers could find out which model is right for them. Let's get started by taking a closer look under the hood, then contact us for more information.
Genesis G90 vs BMW 7 Series: Performance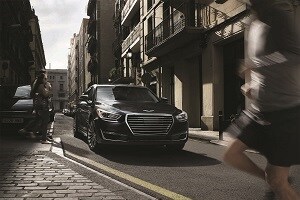 In the cockpit of the 2018 Genesis G90, you're at the helm of some of the latest advances in automotive performance engineering. A standard 3.3L V6 twin-turbo engine delivers a satisfying 365 horsepower and 376 lb-ft of torque. Mated to an 8-speed electronic transmission with paddle shifters, this system provides effortless acceleration and smooth transitions between gears.
Meanwhile, the 2018 BMW 7 Series utilizes a 3.0L inline 6-cylinder engine to generate just 320 horsepower (45 HP less than the Genesis G90), although it does offer a similar 8-speed automatic transmission system.
Another key difference between the G90 and 7 Series is their driver-selected performance profiles. For instance, the BMW 7 Series features Dynamic Drive Control, which offers six driving modes. The G90, on the other hand, uses Intelligent Drive Mode with Smart Shift to optimize performance automatically based on real-time road conditions. The technology seamlessly adjusts throttle response, steering controls, and transmission performance based on the actual condition of the specific road you're driving on.
Interior Style
The Nappa leather seating surfaces of the Genesis G90 offer an exceptional aesthetic, not to mention paramount comfort. Every inch has been carefully tailored and chosen for its high quality. Pair that with 3-Zone+ automatic temperature control, and every seat turns into the best seat in the cabin (after the driver's seat, of course).
You'll find similar accommodations in the BMW 7 Series, right down to the leather seating and automatic climate control. In fact, as far as interior stylings go, both vehicles are rather, well, luxurious. But with a sticker price that's roughly 1.2 times greater than the G90, the BMW 7 Series might be difficult for some drivers to justify, especially considering the base model's subpar horsepower.
Genesis G90 & BMW 7 Series: Technology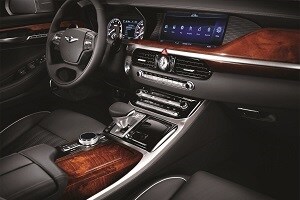 Technology in the Genesis G90 ranges from the simple practicability of ventilated front seats to a wireless device charging station in the front row. And while the BMW 7 Series also features a standard wireless charging area, it lacks some of the sophistication of the G90 model's other technology features.
For example, the 2018 BMW 7 Series comes standard with a rearview camera. Meanwhile, the G90 offers a multi-view camera and forward-view cornering camera, so you can see multiple angles to help back into a difficult spot or navigate a tricky intersection with added confidence. 
Other considerations for the G90 include its 12.3-inch HD navigation system, compared to the 10.2-inch screen found in the BMW, or the 17-speaker Lexicon® surround sound system, compared to the 16-speaker system of the BMW. 
Genesis G90 vs BMW 7 Series: Learn More
To find out what other features set the 2018 Genesis G90 and BMW 7 Series apart, please contact us at Norm Reeves Genesis. Proudly serving the communities of Cerritos, Long Beach, Anaheim, and beyond, we'll help you explore all the fine details of the 2018 Genesis G90. Schedule your test drive today!