At Norm Reeves Genesis, we asked ourselves, "What should it feel like to drive a luxury sedan?" We came up with three answers: exhilarating, comfortable, and impressive.
The 2017 Genesis G90 and the 2017 Audi A8 are two luxury sedans on the market today that deliver that exact driving experience. But which car is right for you? We hope you can answer that question after reading this article.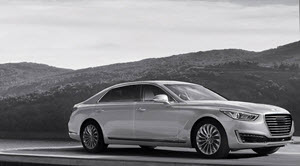 Our team at Norm Reeves Genesis wrote this Genesis G90 versus Audi A8 vehicle comparison for drivers in Cerritos, Long Beach, and Anaheim.
Performance: 2017 Genesis G90 vs. 2017 Audi A8
What makes for an exhilarating driving experience? A powerful engine with plenty of horsepower and torque.
Meet the Lambda 3.3L twin-turbo Gasoline Direct Injection V6 engine. This standard option gives the Genesis G90 an impressive 365 horsepower and 376 lb-ft of torque.
If you crave even more power, the road doesn't end there. Enter the Tau 5.0L Gasoline Direct Injection V8 engine. This available upgrade for the Genesis G90 puts 420 horsepower and 383 lb-ft of torque at your command.
The 2017 Audi A8's standard 3.0L turbocharged fuel stratified injection engine only produces up to 333 horsepower and 325 lb-ft of torque.
Interior Design: G90 vs. A8
What makes for a comfortable driving experience? Driver-focused interior design features.
When you get behind the wheel of the 2017 Genesis G90, you'll sink into its ergonomically engineered 22-way power-adjustable driver's seat. Better yet, the Integrated Memory System will store your preferences so they're instantly accessible at the touch of a button.
Not only will your spine be comfortable, but your hands will be, too. The knobs, buttons, and digital interfaces in the G90's cabin are positioned to foster an intuitive user experience. They're contoured to ideally fit your grip, and the center console is well-organized and uncluttered.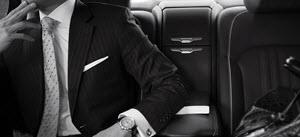 In the 2017 Audi A8, you can take advantage of the driver's seat's 14-way power adjustability. Hopefully this will give enough customization to ensure your spine is healthy and happy for the duration of your journey.
Exterior Design: 2017 G90 vs. 2017 A8
What makes for an impressive driving experience? A sophisticated exterior design.
When you roll up in the 2017 Genesis G90, heads will turn. Who knows, jaws might even drop. Its body is perfectly proportioned, built from design concepts at the intersection of classy and athletic. Its bright LED headlights provide the perfect contrast to the signature Genesis logo that graces the front hood. They boldly announce your arrival in tandem.
While the 2017 Audi A8 is a beautiful car, it relies more on tried-and-true exterior design schemes to send its message. Although, it does have luminous LED headlamps, like those on the Genesis G90.
Test Drive the 2017 Genesis G90
Once you've determined which luxury model offers the exhilaration, comfort, and impressiveness your lifestyle requires, it's time for a test drive.
If you live in Cerritos, Long Beach, or Anaheim, you can test drive the 2017 Genesis G90 today at Norm Reeves Genesis. Contact us to schedule your test drive!