What's most important to you as a driver? Making sure that your vehicle stays roadworthy for as long as possible? Saving a bunch of money on your car insurance? Achieving maximum fuel efficiency? How about protecting yourself, your family, and your friends from harm?
Here's the good news: Keeping up with your automobile's recommended maintenance schedule can help you meet all these goals, and more! That's why our team at Norm Reeves Genesis wrote this guide to the Genesis G90's maintenance schedule; it's simply that darn important.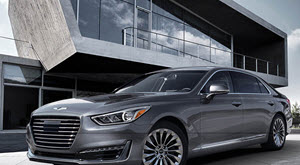 We hope our customers in Cerritos, Long Beach, and Anaheim get a lot out of this article. You can reach out to us with any questions, or to schedule a service appointment.
And, remember: You'll get complimentary scheduled maintenance with your new Genesis vehicle for the first three years or 36,000 miles, whichever comes first.
Every 7,500-Mile Interval
Replace your engine oil and your filter.This simple action will ensure that your engine is clean and running smoothly.
Rotate your tires. Periodically changing the position of your tires (swapping out the front ones for the back ones) will preserve both handling and traction.
Add fuel additive. However, you don't have to do this if your regularly fill your tank with TOP TIER™ Detergent Gasoline.
Major Inspection & Replacement Package
Every 15,000-mile interval (starting at 15,000 miles), your Genesis G90 will require extensive inspections and replacements. In other words, you should get this package after 15,000 miles, 30,000 miles, 45,000 miles, 60,000 miles, 75,000 miles, etc.
Here's an overview of everything that this service covers:
Climate control air filter and air conditioning filter
Air cleaner filter
Vapor hose and fuel filler cap
Vacuum hose
Suspension mounting bolts
Steering gear box
Bake discs and pads
Propeller shaft
Parking brake
Fuel tank air filter
Fuel lines, fuel hoses, and connections
Fuel filter
Front brake discs, pads, and calipers
Exhaust pipe and muffler
Driveshafts and boots
Brake hoses and lines
Brake fluid
Air conditioning refrigerant
Schedule a Service Appointment at Norm Reeves Genesis
Don't forget that scheduled maintenance is complimentary with your new Genesis G90 for the first three years or 36,000 miles of its lifespan (whichever comes first).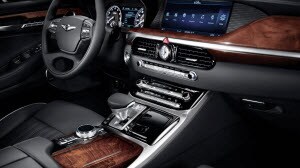 With that in mind, don't hesitate to schedule a maintenance appointment at Norm Reeves Genesis if you discover that you need one. You can either call us or fill out a simple form on our website to do so.
Best of all, we'll even set you up with a free service valet. Just pick a location close to Cerritos, Long Beach, or Anaheim, and we'll swing by and pick up your car. We'll let you drive a Genesis loaner while it's in the shop. Then, when we're finished, we'll drop it back off.
We sincerely hope that you found this Genesis G90 maintenance schedule to be useful. Feel free to contact us at Norm Reeves Genesis today to ask any questions, or to schedule an appointment at our service center. You won't regret it!