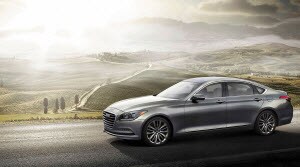 When you try to imagine the perfect blend of unadulterated luxury and sporty performance, only two vehicles should come to mind: the Genesis G80 and the Lexus ES 350. These first-class sedans are both excellent cars for drivers in Cerritos, Long Beach, and Anaheim. But which one is truly the best for you?
Our team at Norm Reeves Genesis wrote this Genesis G80 versus Lexus ES 350 comparison so you can decide which vehicle is best suited for your lifestyle. 
Performance: Genesis G80 vs Lexus ES 350
The sophisticated Genesis G80 sedan features two powerful engine options. The first is the 3.8L GDI V6 engine, delivering a solid 311 horsepower and 293 lb-ft of torque. You can also upgrade to the 5.0L GDI V8 engine, yielding a breathtaking 420 horsepower and 383 lb-ft of torque.
The engine in the Lexus ES 350 only produces 268 horsepower and 248 lb-ft of torque. This is quite meager compared to the G80's performance. In fact, it amounts to 43 less horsepower and 45 less lb-ft of torque than the G80's standard engine, and 152 less horsepower and 135 less lb-ft of torque than its available upgraded engine.
What could you do with all that additional power? 
Transmission: Genesis G80 vs Lexus ES 350
Another important component of any performance-focused car is the transmission. The Genesis G80 takes advantage of the full capabilities of its 8-speed automatic transmission with Shiftronic® technology and paddle shifters. This manumatic transmission gives you the seamless shifting of an automatic transmission with the exhilarating upshifts and downshifts of a manual transmission. It's the best of both worlds.
The Lexus ES 350 only has a 6-speed sequential-shift automatic transmission. While the sequential-shift feature does create some excitement, this 6-speed transmission makes for rougher shifting than the G80's 8-speed transmission.
This begs the question: who doesn't want a smoother driving experience? 
Entertainment Technology: G80 vs ES 350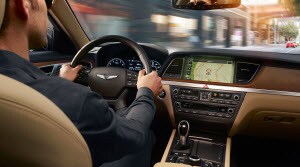 Both vehicles have available surround sound audio systems to entertain you while you're zooming along in the city or on the highway. However, after a closer inspection, it seems the Genesis G80 offers the more comprehensive system.
In the Genesis G80, the Lexicon 7.1 Discrete Surround Sound Audio System includes 17 strategically placed speakers. In the Lexus ES 350, the Mark Levinson Premium Surround Sound Audio System has a mere 15 speakers.
When it comes to automotive surround sound systems, what do you want? More sound, or less sound? 
Test Drive the Genesis G80 at Norm Reeves Genesis
After an objective, side-by-side analysis, the results are in! The Genesis G80 is hands-down the preferable luxury sedan over the Luxury ES 350.
We hope you learned a great deal from this vehicle comparison. But you don't have to take our word for it. Discover the sedan's sporty performance, fluid shifting, and immersive audio system for yourself.
If you're a driver in Cerritos, Long Beach, or Anaheim, our team at Norm Reeves Genesis would like to extend an invitation to test drive the Genesis G80 at our dealership.
Contact us at Norm Reeves Genesis today to schedule your test drive.