It doesn't matter what type of vehicle you drive. Safety is an absolute priority; that's just a fact. The roads can be extremely dangerous these days, and protecting yourself, your family, and your friends should be at the forefront of your mind.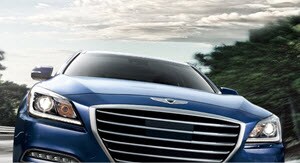 That's why our team at Norm Reeves Genesis wrote this comprehensive review of the Genesis G80's various safety features. We hope that our customers in Cerritos, Long Beach, Anaheim, and the surrounding communities find it helpful.
If you have any questions, please contact us today.
2017 Genesis G80: Awards and Accolades
The 2017 Genesis G80 has received several prestigious safety distinctions from multiple different organizations.
It was designated a Top Safety Pick+ by the Insurance Institute for Highway Safety. It was also given a 5-Star Overall Safety Rating by the National Highway Traffic Safety Administration.
Perhaps it has garnered so much praise because of the truth behind its motto, "Safety is standard." You don't have to upgrade; you don't have to pay extra; you don't have to worry.
Below is an overview of the many smart safety features that come standard in the Genesis G80.
Standard Intelligent Safety Systems
Automatic Emergency Braking: If it detects a slowing or stopped vehicle in front of you, this system can actually engage the brakes for you, potentially mitigating an accident.
Lane Departure Warning: This function will issue both visual and audible warnings if you start to drift out of your lane without engaging your turn signal.
Lane Keep Assist: However, if the aforementioned Lane Departure Warning isn't enough, then the Lane Keep Assist software can kick in. It can apply corrective steering torque to help get you right back on track.
Blind Spot Detection: It's crucial to know what's going on in your blind spots when you're either changing lanes or merging. The Genesis G80's Blind Spot Detection is an invaluable ally when it comes to this.
Smart Cruise Control: Traditional cruise control systems merely maintain your speed. The Genesis Smart Cruise Control system will maintain the distance between you and the car ahead. It does so by utilizing state-of-the-art radar technology.
9-Airbag System: This sophisticated array of airbags includes advanced dual front airbags, front and rear side airbags, a driver's knee airbag, side curtain airbags, and more.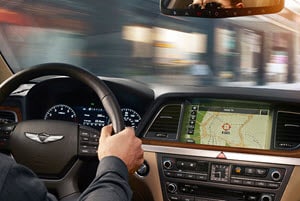 You Can Test Drive the Genesis G80 Today at Norm Reeves Genesiss!
If you live in Anaheim, Long Beach, or Cerritos, and you like what you read about the 2017 Genesis G80, you can take it for a spin at Norm Reeves Genesis.
We sincerely hope that you won't have to experience too many of these safety features for yourself during your test drive. But, our representatives would be happy to tell you more about them.
There are two simple ways for you to reach out to us: You can either call us on the phone or stop by our showroom in person.
Don't wait! Contact us at Norm Reeves Genesis today to schedule your exclusive test drive of the Genesis G80.