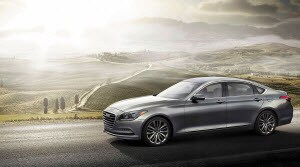 The most important part of owning or leasing a luxurious Genesis sedan is keeping it in tip-top condition. That means staying up to date on scheduled maintenance, as well as dealing with any issues as they arise. The G80's various dashboard lights, indicators, and warnings are great tools to help you do this.
Our team at Norm Reeves Genesis wrote this Genesis G80 dashboard light guide for our customers in Cerritos, Long Beach, and Anaheim. We hope you use it as a reference, should any indicators switch on. If you have any questions, feel free to contact our team at the Norm Reeves Genesis Service Center. 
Genesis G80: Common Dashboard Lights, Indicators, and Warnings
Air Bag Warning Light: Looks like a seated passenger who's covered by an airbag. Unfortunately, this warning means the opposite, that your airbag isn't functioning properly and won't deploy.
Seat Belt Warning Light: A front view of a passenger who's correctly strapped in. But, once again, it means that your belt isn't on. Buckle up, as most states now have stringent seat belt laws.
Trunk Open Warning Light: This pictograph is straightforward. It looks like an open trunk, and it indicates an open trunk.
Electronic Stability Control (ESC) OFF Indicator: If the ESC OFF symbol is bright, your G80's Electronic Stability Control system is disengaged. This is very bad for your traction and your overall safety.
Check Engine Light: If the little engine on your dashboard is illuminated, you need to schedule a service appointment to have your engine checked.
Cruise SET Indicator: The SET symbol lets you know that your sedan is in cruise control and that everything's working like it's supposed to.
Smart Cruise Control Malfunction Indicator: The Smart Cruise Control malfunction icon, which looks like a small car idling under a flashing light, means the opposite, that it's not working like it's supposed to.
Low Tire Pressure Indicator: When that exclamation point starts to flash, your tires have low pressure, and they need air.
Low Fuel Level Warning Light: When that mini fuel pump starts to flash, your gas tank is low, and you need to refill it.
Electronic Parking Brake (EPB) Malfunction Indicator: The EPB icon denotes that your G80's Electronic Parking Brake needs some repairs. If you notice this light, be careful parking your car on an incline until an automotive technician can fix the problem.
Other important dashboard lights, warnings, and indicators include the Charging System Warning light, the Automatic Transmission Shift indicator, the Engine Oil Pressure Warning light, etc. A member of our Genesis service team can answer all your questions about these and more. 
Schedule an Appointment at the Norm Reeves Genesis Service Center
Was this Genesis G80 dashboard light guide helpful? If you live in Cerritos, Long Beach, or Anaheim, and you notice one of your Genesis G80 dashboard indicator or warning lights is on, it's time for a service call.
Don't worry, we'll have your Genesis G80 running as good as new. Contact us at Norm Reeves Genesis today to schedule an appointment at our Service Center.