Orange County is the third most populous county in all of California, and it's been home to many famous individuals throughout the years.
Celebrities born in Orange County include golfer Tiger Woods, actors Kevin Costner and John Stamos, comedians Steve Martin and Will Ferrell, actresses Michelle Pfeiffer and Diane Keaton, and singers Bonnie Raitt and Gwen Stefani.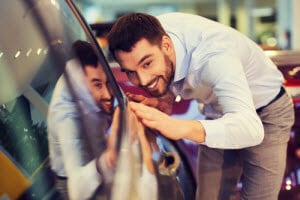 However, two of the county's most notable residents weren't born there, but lived there at some point during their lives: John Wayne, the Hollywood megastar who appeared in over 140 films, and Richard Nixon, the 37th President of the United States.
At Norm Reeves Genesis, our team is proud to serve all drivers of the Orange County community, from the everyman to the superstar.
Explore Orange County
Not only is Orange County the home to tons of our favorite stars, but there's also lots of fun things to do in the area.
Step outside and soak up the Southern California sun with a trip to Heisler Park in Laguna Beach. This park may be small, but it offers some of the most spectacular views of the ocean and of Laguna Beach. Take a walk on the path through downtown, and you'll discover lots of delicious places to grab lunch, or the Saturday morning farmers' market on Forest Avenue.
For a taste of Orange County's history, take a trip to Mission San Juan Capistrano, a historic chapel and museum. The mission was founded in 1776, established to spread the territory of Spain and to bring Christianity to the native people of California. The mission was to be a home of learning and training for natives, in order to transform them into good Spanish citizens. By 1806, the mission was home to over 1,000 people. Today, visitors can tour the mission and museum to experience its rich history.
Exclusive Inventory
At our Genesis dealership near Orange County, we feature a VIP-level inventory of luxe Genesis vehicles. This includes models like the Genesis G80 Sedan and the Genesis G90 Sedan. Our entire selection is affordably priced, and you can either browse through it online or at the Norm Reeves Genesis showroom.
Online, you'll find that plenty of resources accompany each available car. From a detailed list of specifications to a helpful review to a polished photo gallery, we provide you with the tools you need to decide which model best suits your commutes throughout Cerritos, Long Beach, and Anaheim.
At our showroom, you'll meet with one of our courteous sales representatives. They'll guide you through all your options, explaining the sophisticated features that each Genesis offers. Furthermore, they'll answer any questions that you have, and will give you a chance to test drive any of the vehicles in our inventory.
Finance Center & Online Applications
Once you have some more information about what you'd like to drive-perhaps you did some reading online, maybe you went over your questions with our staff, or even went for a few test drives-it's time to come up with a financing plan to pay for your new Genesis.
The team at the finance center at our Genesis dealer near Orange County will work with you to develop an individualized auto loan or lease plan that makes sense for your credit situation. They'll consult with our network of local banks and lenders to get you one of the best rates in Orange County.
On our website, under the Finance Center tab, you'll find a few links to help you get started right away, such as our application form that you can fill out online at your own convenience, without ever having to touch any paperwork. 
Perks of Owning a Genesis
When you purchase a new Genesis model from our dealer near Orange County, you'll get more than just a great luxury vehicle. All of our new models come with a huge number of unique standard features and services, including:
Complimentary scheduled maintenance: Your car needs regular maintenance in order to keep driving in the best possible condition for as long as possible. We'll provide you with three years of these services at no cost to you, and we'll also provide you with free oil changes every 7,500 miles.
Complimentary service valet: When your car needs to come in for its regular maintenance, we'll make it as easy for you as possible with three years of our complimentary service valet. We'll come pick up your car and bring it to the service center for you, leaving you with a loaner vehicle, so you can get wherever you need to be while our technicians work on your car.
24/7 hour enhanced Roadside Assistance: Encounter an unexpected problem on your trip? Don't worry, because for three years, we'll provide you with free Roadside Assistance to help with whatever you may need in an emergency. We can change your tire or have your car towed to the nearest Genesis dealer. 
SiriusXM Traffic™ and Travel Link®: Your new Genesis comes with three years of complimentary access to all that SiriusXM® has to offer. You'll have access to hundreds of channels of music and entertainment, as well as information on traffic speeds, accidents, construction, road closures, and more, so you can avoid congestion and get to your destination faster.
Multimedia and navigation updates: When you come in for your annual routine maintenance visit, we'll update the mapping in your vehicle's navigation system completely free for three years.
Genesis Intelligent Assistant app: Download this app for your smartphone or other compatible device, and you'll be able to access control of your vehicle from just about anywhere in the palm of your hand. The app will allow you to remotely start your car, lock or unlock the vehicle, access service and maintenance information, and even sync your calendar events to the app for helpful reminders that can prompt you when it's time to leave.
Test Drive Your Genesis
Ready to take the next step toward owning your very own Genesis? Contact Norm Reeves Genesis today to schedule a test drive of your favorite model. Soon, you'll be zipping around Cerritos, Long Beach, Anaheim, and Orange County in your brand-new Genesis!