Welcome to the Norm Reeves Genesis library of dashboard light guides! We created this index for our customers in Cerritos, Long Beach, and Anaheim.
On this page, you'll find a comprehensive list of useful dashboard light guides for luxurious vehicles like the Genesis G80 sedan, the Genesis G90 sedan, and others.
We hope you take some time to browse these articles. If you have any questions about a potential issue with your vehicle, don't hesitate to contact our team at the Norm Reeves Genesis Service Center. 
How Are Dashboard Light Guides Helpful?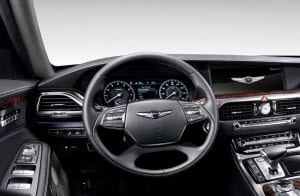 Our thorough guides to the dashboard lights, warnings, and indicators you'll find on various Genesis models are extremely helpful in several ways.
First, they let you know when your car is working properly. For example, if the CRUISE indicator is illuminated, you know that your Genesis G90's cruise control system is running smoothly.
Next, they let you know if you need to make an adjustment before you hit the road. They can alert you of an open trunk, an unbuckled seat belt, or a door that's been left ajar. You can fix these minor problems right away.
Finally, they inform you when your vehicle needs either routine or emergency maintenance, repairs, or replacements. Depending on the situation, this knowledge could save the lives of you and your passengers. 
What Can You Expect from Our Genesis Dashboard Light Guides?
Our Genesis dashboard light manuals are well-written, in-depth expositions that you can use as a tool to determine when you need to schedule a service appointment.
Every article will focus on 10 to 15 dashboard lights, indicators, and warnings for a specific Genesis model. Each entry will be accompanied by a clear description of the icon, an explanation of what it means, and a suggestion for what you should do.
The guides cover icons like the Airbag Warning Light, the Malfunction Indicator Light, the Low Tire Pressure Indicator, the Electronic Stability Control Off Indicator, and more. 
Browse Our Dashboard Light Guide Library Today!
Once you look through the dashboard light guide for your Genesis vehicle, if you notice any problems, schedule an appointment at our Norm Reeves Genesis Service Center as soon as possible.   
Genesis G80 Dashboard Light Guide
Genesis G80 Sport Dashboard Light Guide
Genesis G90 Dashboard Light Guide