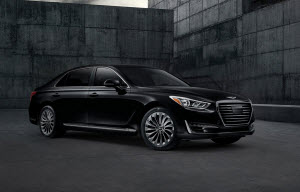 The 2017 Genesis G90 is the Genesis line's flagship luxury sedan. It combines an aggressive, sporty performance with a sturdy construction and high-tech safety features to provide the ultimate driving experience.
The Genesis G90 is available to drivers from Cerritos, Long Beach, and Anaheim at Norm Reeves Genesis. Our team is proud to serve these communities, and we wrote this vehicle review to introduce you to the sedan and highlight its best attributes.
Genesis G90 Performance - Powertrain, Suspension, and More
The 2017 Genesis G90 offers drivers the choice between two stalwart engines to power its athletic performance. The first option is the Lambda 3.3-liter Twin-Turbo GDI V6 that produces an incredible output of up to 365 horsepower and 376 lb-ft of torque. The second option is the upgraded Tau 5.0-liter GDI V8 that yields 420 horsepower and 383 lb-ft of torque.
Regardless of which powerful engine you pick, your G90 will sit atop its Genesis Adaptive Control Suspension, which bolsters steering and control for rides on rough or uneven surfaces. This system allows you to have a smooth drive over even the most disagreeable road conditions.
Perhaps the coolest feature on the luxury sedan is its individualized DRIVE mode. When DRIVE mode is engaged, your G90 will monitor real-time driving conditions and then make performance adjustments accordingly. It'll adjust throttle responsiveness, transmission shifting points, and steering sensitivity to suit both the road and your driving style.
2017 G90 Luxury Sedan - Safety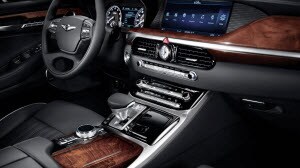 All that sporty power warrants comprehensives safety technology to match because when you're cruising down the highway, revving the engine up to a few hundred horsepower as you round a sharp bend in DRIVE mode-well, you get the picture.
That's why the 2017 Genesis G90 is built with an advanced high-strength steel frame on top of a sturdy platform. There are also nine state-of-the-art airbags interspersed throughout the cabin to shield you and your loved ones in case of the worst. These smart airbags will inflate to different pressures depending on the size of the passenger they're protecting and the intensity of the collision.
In addition to its protective design, the 2017 Genesis G90 has several standard and available high-tech driver-assistance safety systems:
      
Lane Keep Assist: Protects you from accidental lane changes
          
Smart Cruise Control: Utilizes radar technology to maintain a set distance between you and vehicle ahead of you
          
Smart Blind Spot Detection: Helps you to avoid dangerous collisions with cars in your blind spot
          
Driver Attention Alert: Observes your driving patterns and then offers audio and visual alerts if it senses driver fatigue or distraction
          
Automatic Emergency Braking with Pedestrian Detection: Applies emergency braking when a crash is inevitable (at speeds up to 50 miles per hour)
          
Pre-Safety Seatbelt: Automatically tightens on quick turns, slippery conditions, accelerations, etc.
          
Multi-View Camera: Forward-view camera, rearview camera, and a camera on each side mirror
Test Drive a 2017 Genesis G90
Our team at Norm Reeves Genesis would like to extend a genial invitation to our customers in Cerritos, Long Beach, and Anaheim. Stop by our showroom and test drive a 2017 Genesis G90 for yourself.
Nothing can compare to the experience of riving a powerful luxury vehicle like the 2017 Genesis G90, so contact us today at Norm Reeves Genesis to schedule your exclusive test drive.