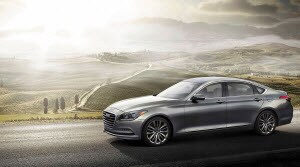 Some drivers just want a car that will get them from point A to point B. Others want a luxury sedan that offers a holistically elegant driving experience. The 2017 Genesis G80 is more than a midsize sedan; it's the hallmark of an entire lifestyle.
Our team at Norm Reeves Genesis wrote this vehicle review to highlight the Genesis G80's sporty performance and classy design for our drivers in Cerritos, Long Beach, and Anaheim.
Let's start by looking at your engine options.
Genesis G80: High-Class Performance
The 2017 Genesis G80 offers the choice between two engines to power your ride. The first is the 3.8-liter gasoline direct injection (GDI) V6 engine. This robust option yields up to an impressive 311 horsepower and 293 lb-ft of torque. The second is the souped-up 5.0-liter GDI V8 engine. This roaring lion has an output of up to 420 horsepower and 383 lb-ft of torque.
Regardless of which performance-focused engine you choose, shifting between gears is exhilarating due to the G80's standard eight-speed automatic transmission. With embedded SHIFTRONIC® technology, you can manually upshift or downshift within the automatic transmission. Best of all, your Genesis has steering wheel-mounted paddle shifters, which make you feel like a professional racecar driver as you shift from gear to gear.
Another major part of the Genesis G80's athletic performance is its HTRAC all-wheel drive system. This technology creates improved traction on arduous surfaces, especially wet or slippery roads. Better stability, as well as a multi-mode setting for various types of terrain, means an all-around safer and more exciting driving experience.
Genesis G80 Luxury Sedan: World-Class Design
When you drive the 2017 Genesis G80, you can immediately tell that it's different than the rest of the cars on the market, that it's special. However, you don't even need to start the engine to get a feel for the G80's luxuriousness. The moment you take a seat behind the wheel, you'll notice the agreeable contours of the premium leather seating. Then your eyes will dart to the cabin's chic matte-finish wood trim.
However, you won't be the only one to notice the 2017 Genesis G80's distinctive style. It's just as breathtaking on the exterior as it is on the interior.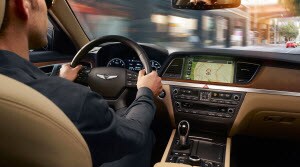 Its signature Crest hexagonal grille leads the way as you drive, announcing your arrival with confidence. This one-of-a-kind grille is flanked by two HID headlights with LED daytime running lights, which serve as a luminous picture frame that completes the G80's entire front end.
For the finishing touch, the 2017 Genesis G80 projects its flagship logo onto the ground as you drive. When you pull up to the valet, the Genesis logo will automatically spill out of the puddle lamps on your side mirrors, letting the entire world know that you've arrived.
Test Drive a 2017 Genesis G80
At Norm Reeves Genesis, we encourage our VIP customers in Cerritos, Long Beach, and Anaheim to test drive a 2017 Genesis G80 for themselves. A test drive will give you a visceral feeling of the performance and opulence touched upon in this article.
Contact us at Norm Reeves Genesis today to schedule your test drive of the world's premier luxury sedan: the 2017 Genesis G80.